Overview
Engineered European Oak to upstairs floor area & stairs. Downstairs floor with new Brush Box Timber Flooring installed (to match existing) and finished with Hard Wax Oil
Architect
Benn+Penna
Builder
Newmark Group
Timber Mill (Solid Brush Box)
Hurford Hardwood
Flooring Manufacturer (Engineered European Oak)
Tongue N Groove
Flooring Product
60 x 19 mm Select Grade Brush Box T&G timber flooring downstairs floor area & step
220 x 20 mm Eterno Grande Colour Freado to upstairs floor area & main flight of stairs
Finish Specification
Matte Hard Wax Oil
Accolades
House Magazine February 2019
Learn More
About Species, download Brush Box Species Guide or see more Brush Box projects
Eterno Grande Freado
Remaining true to the original European oak colour, Freado will create an elegant neutral backdrop for any application. Its light honey tone projects instant warmth onto spaces and is a versatile colour that will suit most settings.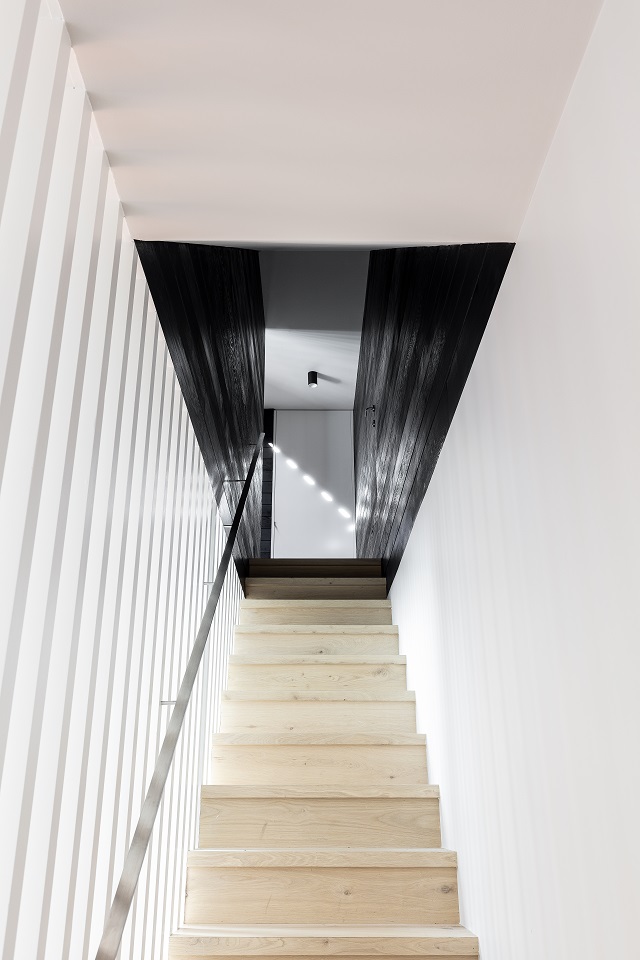 Brush Box
Brush Box is a large hardwood with a squarish lower trunk that flourishes in the rich soils of the north east coast of Australia between Sydney and Cairns. With it's beautiful lush chocolate colours highlighted with reddish-pinkish undertones Brush Box is a floor that matches well with modern elegant spaces. Brush Box has an even texture with a very tight interlocking grain. Look & Features Even texture with a very tight interlocked grain. Botanical Name Lophostemon confertus. Colour Chocolate to reddish - pinkish brown. Janka Rating 9.5.
Select Grade
Providing a floor where the feature present or natural discolouration will not dominate the appearance of the floor. Features that are permitted still include short narrow gum veins, a limited number and size of past borer activity and small knots.
Solid Timber Flooring
Can be fixed direct to joists, to sheet subfloors of particleboard or plywood over joists, plywood or battens over concrete slabs and in some locations, direct fixing to the concrete slab is common. The traditional timber floor is renowned for its strength, durability and character. Throughout its life, solid strip timber floors can be rejuvenated to near new condition by sanding and refinishing. It is ideal for new houses or to match existing floors in renovations and they can be top (face) nailed, or secretly fixed in combination with adhesives.
Engineered Flooring
Is manufactured with a decorative layer of timber (called a veneer or lamella) bonded over layers beneath which is often timber. This not only provides some additional stability but also maintains all the appearance and characteristics associated with solid timber flooring. Various factory coating systems are now used with some products to highlight and colour the grain and other techniques to texture the surface for a stunning appearance. Most engineered flooring is pre-finished although some are designed to be sanded and finished after installation. Engineered floors may be laid as floating floors, glued to a sub-floor as an overlay and in some cases fixed as a structural floor on battens. Pre-finished engineered floors are ready to walk on once installed.