Overview
New Mosman residence received solid Blackbutt timber throughout – custom solid Blackbutt staircase and 180 mm timber flooring to floor area & lift floor
Builder
Jarvis Construction
Timber Mill
Hurford Hardwood
Flooring Product
180 x 21 mm Prestige Grade Blackbutt T&G timber flooring
Stair Design
Select Grade Blackbutt DAR (2 pieces laminated and dressed down to 320 x 32 mm) Treads, rebated and fixed to steel plate.
Finish Specification
Bona Traffic, Silkmatt
Learn More
Download Blackbutt Species Guide or see other Blackbutt projects
Blackbutt Treads
Rebated and fixed to steel plate & finished with Bona Traffic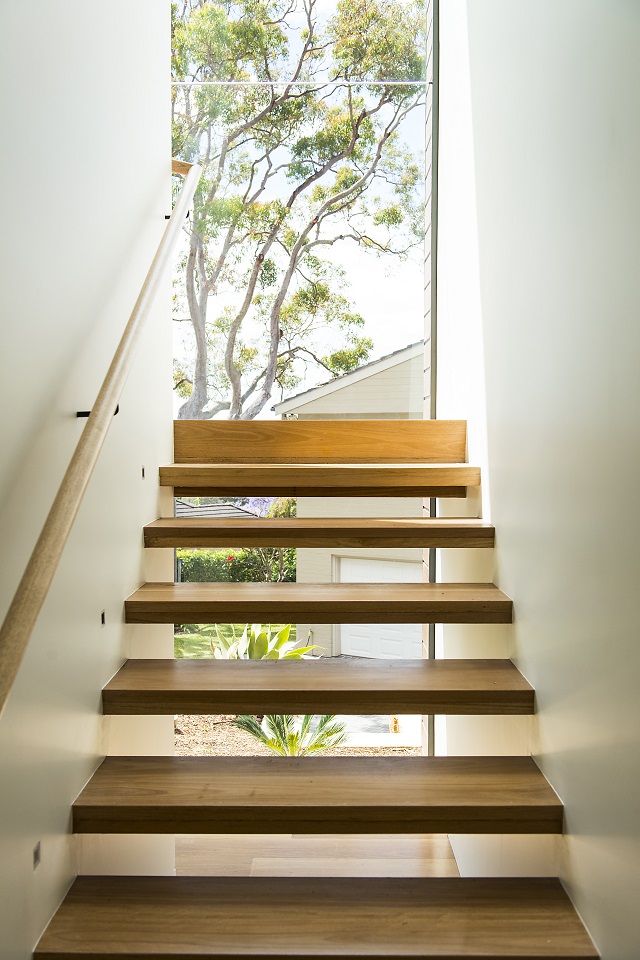 Blackbutt
Is a species that grows in abundance in the coastal forests in New South Wales and southern Queensland. The common name is derived from the distinctive black, charcoal look that is only on the base of the trunk. The timber is renowned for both its strength and versatility of application. Blackbutt is a straight grained timber, with a warm nutty hue which will compliment a range of interior designs where a lighter neutral palette is required. Look & Features Exhibits pinholes, dark gum veins and some surface checking. Botanical Name Eucalyptus Pilularis. Colour Fairly even from a light honey through to golden nutty browns - sapwood is distinctively paler. Natural Durability Class 1 (above ground), Janka Rating 9.1.
Prestige Grade
Light to medium featured, with a range of gum veins,insect trails and other natural characteristics. Described as approx. 80% Select & 20% Standard Grade
Solid Timber Flooring
Can be fixed direct to joists, to sheet subfloors of particleboard or plywood over joists, plywood or battens over concrete slabs and in some locations, direct fixing to the concrete slab is common. The traditional timber floor is renowned for its strength, durability and character. Throughout its life, solid strip timber floors can be rejuvenated to near new condition by sanding and refinishing. It is ideal for new houses or to match existing floors in renovations and they can be top (face) nailed, or secretly fixed in combination with adhesives.
Bona Traffic
Is a 100% polyurethane two component water-based top coat for the treatment of timber floors subjected to very heavy wear. It can also be used to re-coat most pre-finished and previously finished floors. Traffic is designed for use in commercial and high traffic situations where maximum wear resistance is required. It should be used in conjunction with Bona Prime Intense, Classic or White. Traffic is available in a very flat Matt (IP) or Satin sheen to highlight the natural colour and grain of the timber.