Overview
Blackbutt 80 mm Standard Grade T&G timber flooring installed into new residential property at Gordon, a suburb on the Upper North Shore of Sydney
Architect
Darren Campbell Architect
Builder
Newmark Group
Timber Mill
Hurford Hardwood
Flooring Product
80 x 19 mm Standard Grade Blackbutt Tongue & Groove Flooring
Finish Specification
Synteko Classic 50 / Semi-Gloss
Learn more
Download Blackbutt Species Guide or see other Blackbutt projects
Standard Grade
Flooring in this grade will be moderately featured. Gum veins, gum pockets, insect trails, burls and borer holes, are some of the characteristic's that will be more prevalent in Standard Grade.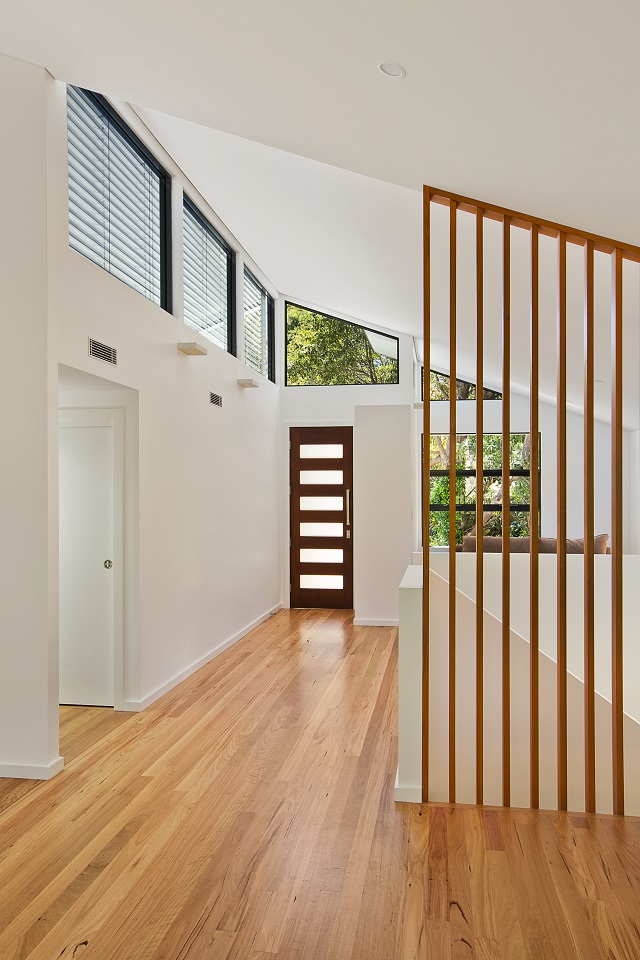 Blackbutt
Is a species that grows in abundance in the coastal forests in New South Wales and southern Queensland. The common name is derived from the distinctive black, charcoal look that is only on the base of the trunk. The timber is renowned for both its strength and versatility of application. Blackbutt is a straight grained timber, with a warm nutty hue which will compliment a range of interior designs where a lighter neutral palette is required. Look & Features Exhibits pinholes, dark gum veins and some surface checking. Botanical Name Eucalyptus Pilularis. Colour fairly even from a light honey through to golden nutty browns - sapwood is distinctively paler. Natural Durability Class 1 (above ground), Janka Rating 9.1.
Standard Grade
Providing a floor that may have significantly more character than a Select Grade floor. To some degree this will depend on the features present in a particular species. In one species gum veins may naturally be prevalent while in another there may be few gum veins but past borer activity may be more prevalent. Therefore, this grade can be expected to have greater character than Select Grade, and contain an increased amount of gum vein, past borer activity, knots and natural discolouration.
Solid Timber Flooring
Can be fixed direct to joists, to sheet subfloors of particleboard or plywood over joists, plywood or battens over concrete slabs and in some locations, direct fixing to the concrete slab is common. The traditional timber floor is renowned for its strength, durability and character. Throughout its life, solid strip timber floors can be rejuvenated to near new condition by sanding and refinishing. It is ideal for new houses or to match existing floors in renovations and they can be top (face) nailed, or secretly fixed in combination with adhesives.
Synteko Classic
Is a fast-drying, two-component, acid-curing hardwood floor finish for interior use based on modified amino and alkyd resins in a solvent mixture. This finish has an amber colour, enhancing natural wood colours. Synteko Classic delivers an extremely durable, long lasting beautiful finish. Suitable for finishing of hardwood and other timber floors in residential as well as in commercial areas offering excellent grain clarity,depth and colour. Synteko Classic acts as its own sealer has excellent workability properties and fast drying time provide the benefit of one-day job application. Synteko Classic is available in three gloss levels: Matte, Satin, Gloss. Synteko Classic complies with the latest VOC rules in Europe.