As a Professional Residential Designer, I have had the pleasure in working with the Insight Flooring team on many of my projects. Their knowledge and attention to detail is impressive and the outcome has always been beautiful and well crafted. My clients have always been extremely happy with Insight Flooring finishes. I will continue to recommend them to all my clients for their timber floors

Catherine Finaly
Designer
Hurford Roasted
The Hurford Roasted process metamorphosis the natural colour of hardwood to create a deep rich tone that penetrates through the wood.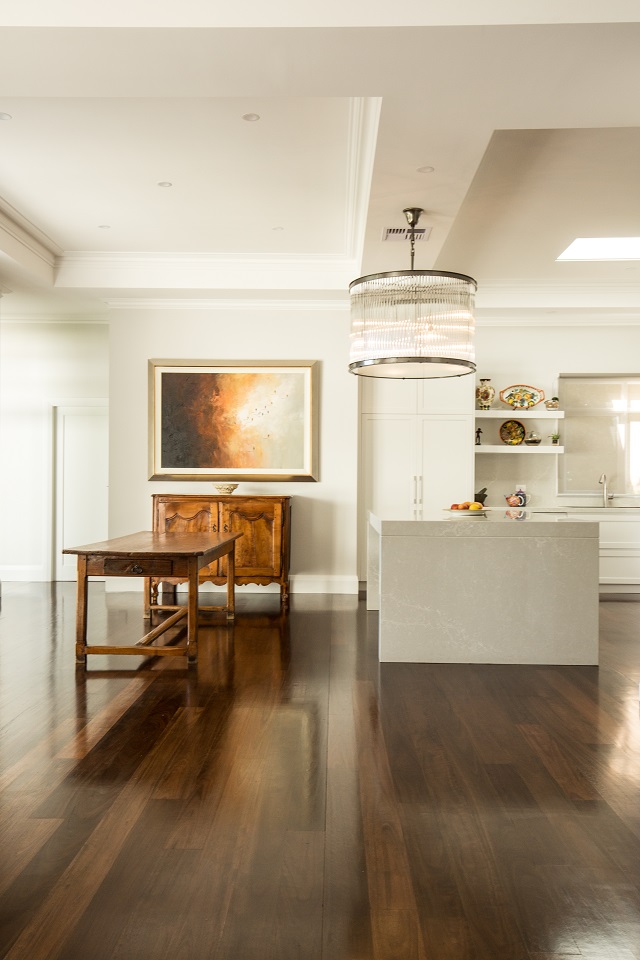 Hurford Roasted
Hurford Roasted is a process that has been developed to enhance timber flooring properties. It uses ultrahigh temperature and humidity to change the molecular structure of the hardwood and creates an extremely stable, more durable, denser product while darkening the natural colour. Heating wood to extreme temperatures permanently changes several of its chemical and physical properties. The change in properties is mainly caused by thermic degrading of hemicelluloses. The Hurford Roasting process is carried out in a purpose built Kiln in which the temperature is increased to 185–215 ºC, depending on the processing level. The colour of the wood fibre changes drastically as the ultrahigh temperature is introduced – the higher the temperature, the darker the change to colour of the fibre is. The colour change is permanent and penetrates the entire piece of hardwood, thus eliminating the need to stain flooring to achieve a rich dark coffee brown colour. The Hurford Roasted process increases greatly the stability of flooring. The process reduces the normal shrinkage and swelling that traditional Kiln Dried hardwood can experience by up to 50%, making it an ideal flooring product. The Hurford Roasted process increases the natural durability by 3 to 4 times greater than the same species unroasted, without the use of chemicals to treat the timber. Since no chemicals are required and only water and heat are used, the Hurford Roasted process is extremely environmentally friendly.
Prestige Grade
Prestige Grade - Light to medium featured, with a range of gum veins,insect trails and other natural characteristics. Described as approx. 80% Select & 20% Standard Grade.
Synteko Classic
Synteko Classic is a fast-drying, two-component, acid-curing hardwood floor finish for interior use based on modified amino and alkyd resins in a solvent mixture. This finish has an amber colour, enhancing natural wood colours. Synteko Classic delivers an extremely durable, long lasting beautiful finish. Suitable for finishing of hardwood and other timber floors in residential as well as in commercial areas offering excellent grain clarity,depth and colour. Synteko Classic acts as its own sealer has excellent workability properties and fast drying time provide the benefit of one-day job application. Synteko Classic is available in three gloss levels: Matte, Satin, Gloss. Synteko Classic complies with the latest VOC rules in Europe.