Overview
Tallowwood timber flooring to kitchen, living & dining areas of renovated harbour side bungalow in Neutral Bay on Sydney's Lower North Shore.
Builder
Reliant Construction
Timber Mill
Hurford Hardwood
Flooring Product
130 x 14 mm 'Fourteen' Select Grade Tallowwood Tongue & Groove Flooring
Finish Specification
Bona Traffic HD, Silkmatt
Downloads
Tallowwood Species Guide
Hurford Fourteen Product Brochure
Tallowwood
Sought by Designers and Architects Tallowwood offers an elegant neutral toned palette, with no compromise on density or durability.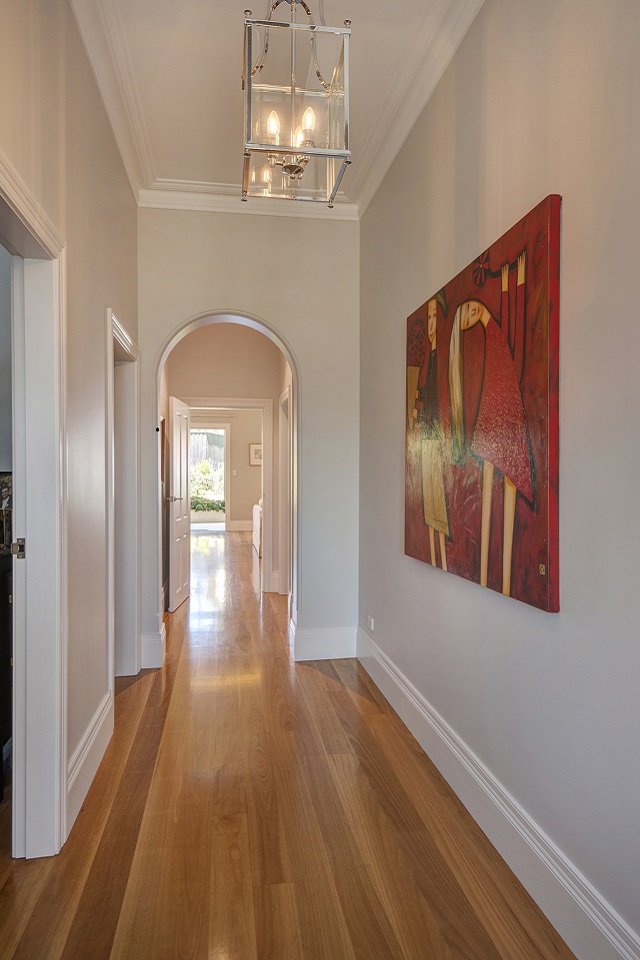 Tallowwood
Has long held a majestic presence in Australia, with its golden honey toning, its exceptional durability and its interesting grain features. Sought by Designers and Architects Tallowwood offers an elegant neutral toned palette, with no compromise on density or durability. A large tree that grows in the dryer climates of Northern New South Wales and Southern Queensland, Tallowwood is one of the original timber species used for hardwood flooring in Australia. Look & Features Moderately coarse but even texture with an interlocked grain. Botanical Name Eucalyptus Microcorys. Colour Golden honey brown with a tinge of olive. Natural Durability Class 1, Janka Rating 8.6.
Select Grade
Providing a floor where the feature present or natural discolouration will not dominate the appearance of the floor. Features that are permitted still include short narrow gum veins, a limited number and size of past borer activity and small knots
Hurford Fourteen
Hurford Hardwood has developed "Fourteen" for people who love the look of wide hardwood boards but don't want the traditional top-nail appearance in their floor. Fourteen has been fully designed and tested with the support of the "Australian Timber Flooring Association" for optimal performance as a floor covering. Fourteen's unique attributes have been designed to work in harmony with the fixing methods and the subfloor to ensure a balanced stable floor is achieved. Fourteen has been specifically designed for secret fixing to plywood or particleboard using adhesive and concealed mechanical fixings. Fourteen has been pre straightened using a proprietary method which Hurfords have developed and enables clean straight lines to be achieved when the flooring is installed, as well as assisting in a faster installation process
Bona Traffic HD
Is a water-based two component top coat designed for use in public areas subject to very high levels of traffic. Traffic HD offers fantastic scratch, scuff and chemical resistance combined with a significantly higher wear resistance compared to the already high standards of Bona Traffic. Add to this a 40% lowering of the solvent content and early development of all of the performance factors which means that after 24 hours Traffic HD is already able to be put back into full use.