Overview
Blackbutt 130 mm Standard Grade T&G timber flooring installed into waterfront residence at Palm Beach, a suburb in the Northern Beaches region of Sydney.
Architect
Jane Anderson Architecture
Builder
Reliant Construction
Timber Mill
Hurford Hardwood
Flooring Product
130 x 14 mm Standard Grade Blackbutt T&G timber flooring
Finish Specification
Bona Traffic HD Silkmatt
Learn more
Download Hurford Fourteen Product Brochure or see other Fourteen projects
Accolades
Winner, Solid Residential Timber Floor of the Year 2018
Winner
Solid Residential Timber Floor of the Year 2018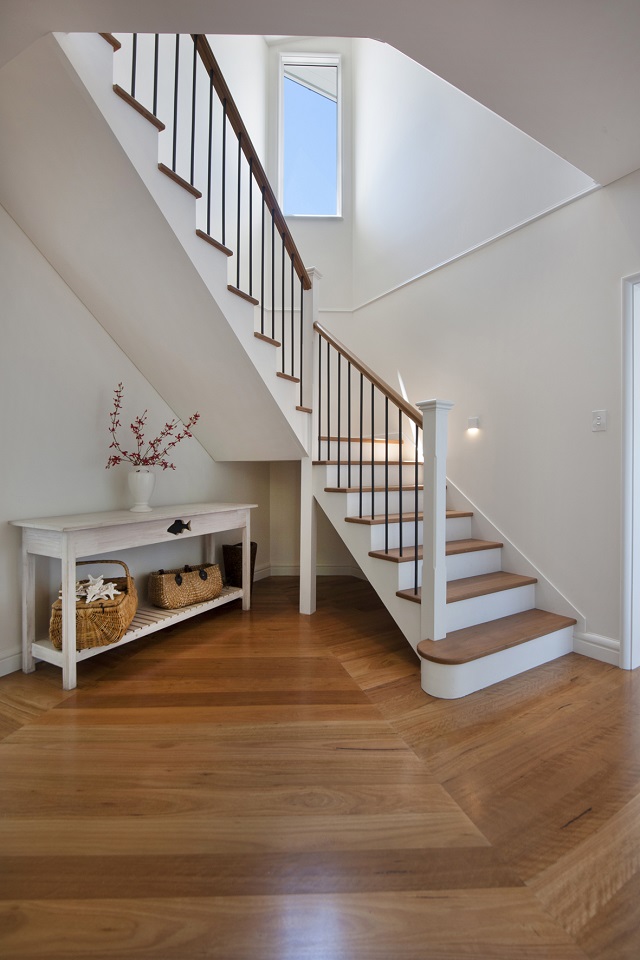 Blackbutt
Is a species that grows in abundance in the coastal forests in New South Wales and southern Queensland. The common name is derived from the distinctive black, charcoal look that is only on the base of the trunk. The timber is renowned for both its strength and versatility of application. Blackbutt is a straight grained timber, with a warm nutty hue which will compliment a range of interior designs where a lighter neutral palette is required. Look & Features Exhibits pinholes, dark gum veins and some surface checking. Botanical Name Eucalyptus Pilularis. Colour fairly even from a light honey through to golden nutty browns - sapwood is distinctively paler. Natural Durability Class 1 (above ground), Janka Rating 9.1.
Standard Grade
Providing a floor that may have significantly more character than a Select Grade floor. To some degree this will depend on the features present in a particular species. In one species gum veins may naturally be prevalent while in another there may be few gum veins but past borer activity may be more prevalent. Therefore, this grade can be expected to have greater character than Select Grade, and contain an increased amount of gum vein, past borer activity, knots and natural discolouration.
Hurford Fourteen
Hurford Hardwood has developed "Fourteen" for people who love the look of wide hardwood boards but don't want the traditional top-nail appearance in their floor. Fourteen has been fully designed and tested with the support of the "Australian Timber Flooring Association" for optimal performance as a floor covering. Fourteen's unique attributes have been designed to work in harmony with the fixing methods and the subfloor to ensure a balanced stable floor is achieved. Fourteen has been specifically designed for secret fixing to plywood or particleboard using adhesive and concealed mechanical fixings. Fourteen has been pre straightened using a proprietary method which Hurfords have developed and enables clean straight lines to be achieved when the flooring is installed, as well as assisting in a faster installation process.
Bona Traffic HD
Is a water-based two component top coat designed for use in public areas subject to very high levels of traffic. Traffic HD offers fantastic scratch, scuff and chemical resistance combined with a significantly higher wear resistance compared to the already high standards of Bona Traffic. Add to this a 40% lowering of the solvent content and early development of all of the performance factors which means that after 24 hours Traffic HD is already able to be put back into full use.