Overview
Neutral Bay, Site-Specific Home with solid, site finished, American Oak flooring to floor and custom floating staircase.
Architect
Glyde Architects
Builder
Boom Build
Timber Mill
Hurford Hardwood
Flooring Product
205 x 21 mm Prestige Grade American White Oak T&G timber flooring
Custom American Oak Stair Treads constructed ex 205 mm T&G timber flooring
Finish Specification
Custom Black stain with Euku Colour Oil (pigmented natural oil)
Learn More
About Species, download American Oak Species Guide or see more American Oak projects
Accolades
Boom Build were Winners of the 550 – 650K category at MBA NSW Excellence in Housing Award in 2018
What an amazing all-round experience. Our initial contact was with Sarah and we were impressed with not only her knowledge of products and options, but her responsiveness, professionalism and willingness to accommodate. Sarah and Sandro were passionate in providing a custom colour that we were ultimately thrilled with, with quite a detailed process to ensure satisfaction. The installation of the high quality American oak flooring and custom floating stairs is incredible. They worked very well with our Builder in a tight program. Couldn't be happier and would recommend to anyone particular if you are after a team that can deliver various bespoke solutions!

Andrew Gammo
Home Owner
Floating Stairs
A stunning bespoke staircase that is equal parts utilitarian and decorative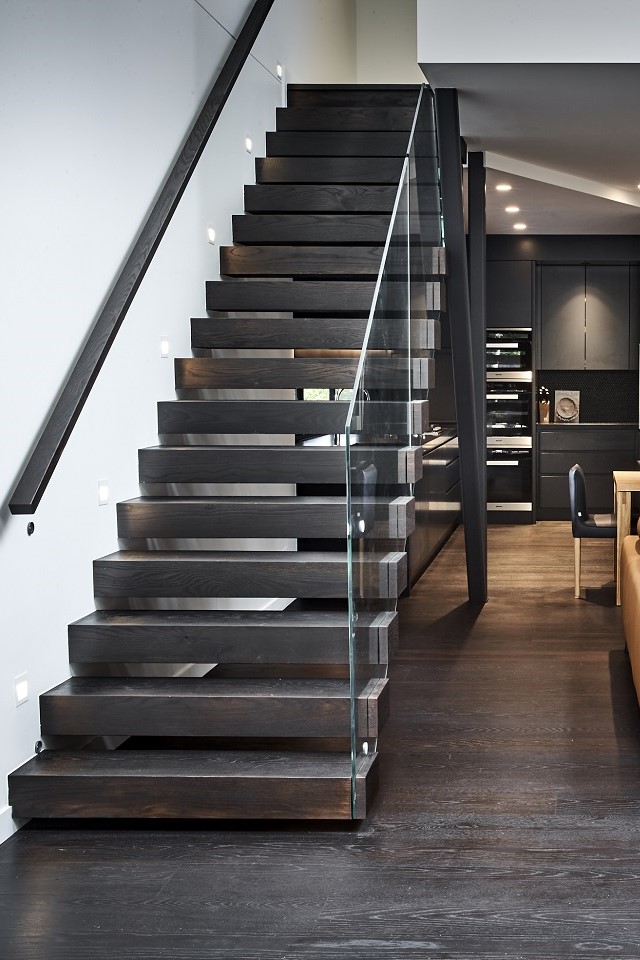 American White Oak
Is a popular species for flooring due to its interesting and pronounced grain pattern. American White Oak is also a species that takes stain extremely well, meaning that a multitude of colours can be achieved with little fuss. American White Oak is grown predominantly on the East Coast of the United States. The name "White" Oak refers to the bark of the tree which is a whitish, ash grey colour. Look & Features Large distinctive growth rings, some medullary rays may be present. Botanical Name Quercus Alba. Colour Golden honey browns, some boards can have hints of soft pink tones.
Prestige Grade
Light to medium featured, with a range of gum veins,insect trails and other natural characteristics. Described as approx. 80% Select & 20% Standard Grade.
Solid Timber Flooring
Can be fixed direct to joists, to sheet subfloors of particleboard or plywood over joists, plywood or battens over concrete slabs and in some locations, direct fixing to the concrete slab is common. The traditional timber floor is renowned for its strength, durability and character. Throughout its life, solid strip timber floors can be rejuvenated to near new condition by sanding and refinishing. It is ideal for new houses or to match existing floors in renovations and they can be top (face) nailed, or secretly fixed in combination with adhesives.
Euku Color Oil FS by Eukulua
Pigmented natural oil Impregnation for wood and cork floors in residential and commercial areas. Solvent-free (Zero VOC), creates attractive natural looking timber impregnation, high penetration creates an especially hard wearing floor, non– slip class R10 (DIN 51130).